Sale!
Santur 15 years wood built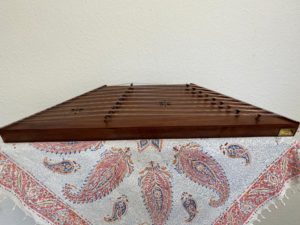 A vendre 2 Santur professionnel
1. Santur Sel kuk 9 dulcimer 15 ans de traitement Fabrication à 2000 CHF/Euro
2. Santur Sel kuk 9 dulcimer 10 ans de traitement et fabrication à 1500 CHF / Euro
For sale 2 Professional Santur
1. Santur Sel kuk 9 dulcimer 15 years of treatment Manufacturing at 2000 CHF/Euro
2. Santur Sel kuk 9 dulcimer 10 years of processing and manufacturing at 1500 CHF / Euro
Sel Kuk 9 dulcimer voûté avec bois de noyer
Avant le processus de construction, les planches ont été séchées naturellement pendant 10
ans, et pendant le processus de production, elles sont séchées dans des fours à bois
pendant une semaine.
Après cela elles sont prêtes pour la construction avec les techniques, expérience et
connaissances de fabrication personnel de Maitre de Santur Arman Rashidi en Iran, les
Santur devient finalement un produit de qualité et précieux.
Salt Kuk 9 arched dulcimer with walnut wood
Before the construction process, the boards were naturally dried for 10 years, and during
the production process, they are dried in wood ovens for a week.
After that they are ready for construction with the techniques, experience and personal
manufacturing knowledge of Master of Santur Arman Rashidi in Iran, the Santur finally
becomes a quality and valuable product.
Available on backorder
Description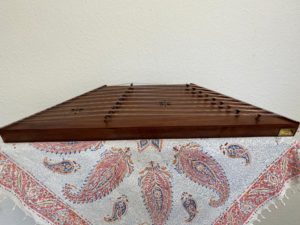 Additional information
| | |
| --- | --- |
| Weight | 4 kg |
| Dimensions | 120 × 40 × 10 cm |